BE A PART OF SOMETHING GOOD
As the idea of Smart Cow Yogurt Bar began swirling in our heads back in 2010, we knew one thing was certain: we would dedicate our family-owned business to helping local schools. We are making a difference in our own backyard, one school at a time, through our program we call Grassroots Tuesdays. Each Smart Cow shop regularly donates part of a day's sales to a local school, and the schools use the funds in whatever ways best meet the needs of their students: textbooks, technology improvements, classroom supplies, teacher wish lists, field trips, even playground equipment. We want to help as many schools as we can, because we know how hard they work to make ends meet. Improving education is a big undertaking, but fortunately, eating great-tasting frozen yogurt isn't. It's easy to join our cause…come soon, and come often! Click on 'Grassroots Events' in our menu to see who we're helping!
Every time you visit, you help us continue on our mission to help neighborhood schools.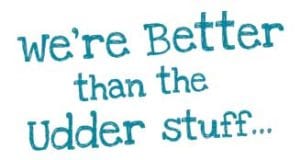 Fun atmosphere with a ton of options in flavors as well as toppings. Very friendly and enthusiastic staff. If you need to fix your sugar craving this is a nice treat.
We stopped here while we were in town and it was a perfect treat to end our day! There are so many flavor and topping options and pricing was very reasonable. We also loved that they had trivia on the TV on the wall, it created lots of fun conversations with our kids!
I really enjoy Smart Cow. Lots of varieties and I can try as many as I want. Always take the Grandkids when they are in town. I really appreciate the donations they make to local schools. Makes me feel like I am doing good while indulging.
What a wonderful place! Your choice of about a dozen types of frozen yogurt with seemingly unlimited toppings! Everything you can think of! From fruit to cereal to gummy bears and any types of candy and nuts... All fresh in a very clean atmosphere.
OMG!  The yogurt is wonderful and there are so many toppings.  The fresh fruit is awesome! It is exceptionally clean and the staff is delightful! We were greeted by the owner, who is just darling.  And we love all the charity donations they do for local schools.
I'm so happy my family found this place! There were so many flavors of yogurt it was hard to decide! SMART COW is a great yogurt bar and I got 20% off for being a teacher! Plus I love that they donate so much to local schools!